Wednesday, September 24, 2008
A real bumpy day today and the hills made a change from mostly flat days.
Surprisingly there was very little traffic today.  The weather was lovely with not a cloud in the sky and a fairly gentle breeze.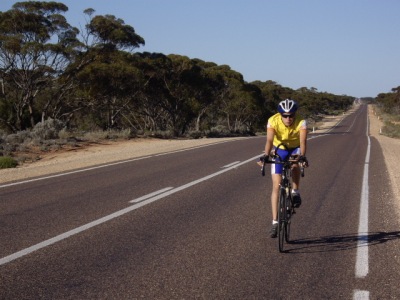 After a slow start we managed to crank out another 168 kms, ending up 38 kms east of Kimba – making us 38 kms ahead of schedule and set for an easier day tomorrow.
Jack's feeling great and he's been dragging me along for the last 100 kms or so at the end of each day.
We're looking forward to getting into Port Augusta tomorrow and catching up with Chris and Jo (Support team # 2!) and David and Maree White – David is the Executive Director of Big Brothers Big Sisters of Australia.
They'll all be riding with us and we're hoping for some drafting opportunities!
Cheers
Brendon