The Riders
Jack Sinclair
Hello, Brendon Sinclair here. I'm Jack's dad and I'm here to tell you all about him (it's okay – he gets to write about me shortly). Firstly, the bad stuff.
His room is a mess and
He licks his bowl when he finishes his Cornflakes!
Now the nicer stuff – he's a fantastic kid
Jack is a 15 year old lad from Elanora on the Gold Coast, Queensland.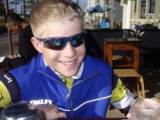 He is a Patrol Leader with the Palm Beach Scouts and a member of the Australian Air Force Cadets.
Jack plays Australian Rules Football (with Palm Beach AFL) in the winter and is the opening batsman for the Palm Beach Under 16 cricket team in the summer.
His hobbies include:
bush walking,
rock climbing,
making his room messy enough to drive his mum crazy,
abseiling and
cycling.
Jack volunteers a week of his September school holidays to help out at a camp for disabled kids.  This has really inspired him to help out other children.
"I Hope It Helps Kids Who Aren't As Lucky As Me."
In January 2007 Jack was nominated for a Gold Coast Citizenship Award (Youth) presented by the Currumbin RSL.
We told Jack of his nomination and talked to him about how lucky he was to have strong and positive role models and friends to help him through life. At the time I was training for a charity bike ride from Sydney to Surfers Paradise (1,000 km in 7 days).
Anyhow, he was lucky enough to win.
Jack came up to my wife and I after the presentation and handed over the winner's cheque of $250 with the words:
"Here you go Dad. I hope it helps kids who aren't as lucky as me."
He'd donated the prizemoney to me for my fundraising efforts for the 2007 Sydney to Surfers Bike Ride (for Youth Off The Streets in Sydney).
That made his mum cry.
Donated Web Site For Sydney to Surfers
Jack then went on to donate the Sydney to Surfers charity bike ride web site to the ride organisers, along with developing and inserting content to the site.
Father Riley Mentioned Jack In His Speech
Father Riley, founder of Youth Off The Streets, mentioned Jack in his speech at the Presentation Night upon completion of the ride and in a letter of appreciation:
"….my personal thanks to you for the donation of your time, energy and expertise in initiating, developing and maintaining the web site.
Your support is inspiring and has made such a difference to the lives of so many who have nothing….. I find inspiration in young people, such as yourself, who are willing to donate time and energy to assist other young people in our community."
Ride organiser Kevin Stuart said:
"I am writing to officially express our appreciation for the wonderful work you have done in setting up the web site for our annual Sydney to Surfers Cycle Ride……..
For a young person such as yourself to volunteer the amount of time and effort that you have, embodies the very spirit of Rotary International – Service above Self."
Received Official Ride Jersey
At the ride presentation night, Jack was called up on stage and presented with the official ride jersey in recognition of his contribution.
After being presented with the jersey Jack took up bike riding, going for long bike rides with me.
We're now to the stage where he can pretty much beat me easily, so now I'm trying to teach him the importance of being very gentle with your elders (and letting them win sprints up hills every now and then to preserve their fragile egos!).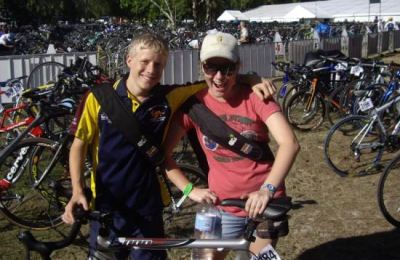 Jack (bike leg) with his sister Laura (run leg) before Noosa Triathlon Oct 07
Brendon Sinclair
P.S:  There is now a Wikipedia page about Jack.

Brendon Sinclair
Hello, my name is Jack Sinclair and here I get to write about my dad (that's him with my mum below).
First, my dad thinks he's really funny and he laughs at his own jokes. We don't think he's that funny.
He's interesting because he does loads of stuff, lots of stuff with us and he encourages us to try anything.
He often gives us a "Dad speech" where he talks about interesting things – some of the things are from when he was our age (yes, he says "When I was your age…." a bit!).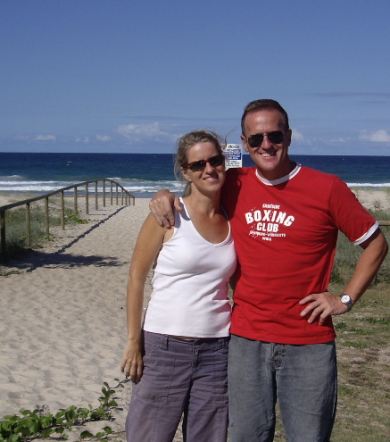 He's not very organised (that's mum), he always forgets stuff, but he's really, really nice.
He's a good bike rider and has taught me a lot about riding a bike. We go riding a lot with Dad's friends (and they're kind of my friends now even though they are lots older) and they're really nice to me too.