Feb 9, 2008 – 6.32 pm
Robbie McEwen is one of the greats of world cycling – a brilliant sprinter who has been at the top for many years.
His amazing win in the first stage of the 2007 Tour de France was a win only champions can pull off.
Robbie has come on board as our Ride Ambassador and had this to say:
"To dedicate and use the ride to raise funds and awareness for the great work of Big Brothers Big Sisters of Australia is a testament to Jack and I've been extremely impressed by his preparation, his dedication and his commitment to supporting those who need a helping hand."
Robbie's a great guy who does a lot to promote cycling, as well as his charity work – thanks Robbie.
Brendon & Jack
Read Robbie's Letter Of Support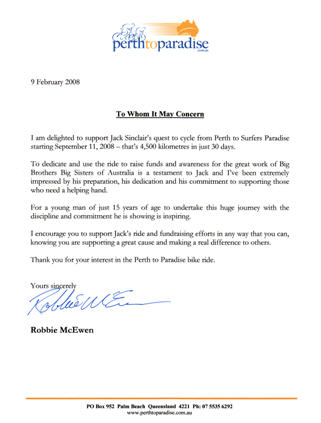 https://www.perthtoparadise.com.au/media/2008/02/09/robbie-mcewen-is-ride-ambassador/robbie-endorsement-jack.flv