How You Can Help
Thanks for taking a look at how you can help the Perth to Paradise bike ride. We appreciate your interest.
Donations
If you'd like to donate to this great cause then you can easily donate here.
Tell Others About Us
We' d appreciate it if you could spread the word about the ride in any way you can. Here are some graphics for web sites if you can use them: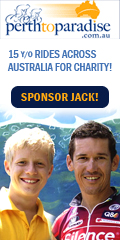 We also have a couple of videos up on YouTube – feel free to use those.
Buy Official Ride Shirts, Caps and more

We have a range of great stuff you can buy – not only do you receive a nice shirt, cap, jersey or knicks, but you'll be supporting the ride as well.
Our online shop is 100% secure and you can buy instantly with a credit card or via PayPal.
Visit our online store here and pick up some great gear!