Saturday, October 4, 2008 – 10.12 pm
Today's ride was planned to be 201 kms.  This was the day we've looked at as the ride to do to ensure we finish.
What idiot planned a 201 km ride towards the end is beyond me (!), but if I find this Brendon Sinclair clown I'll be having some harsh words!
We set off from the Rotary Caravan Park in Gilgandra at 7.30 am and soon figured out we were in for a tough day.  It was already blowing a big headwind, which never helps, but the dodgy road was a bit more of a problem.
The road shoulder was non-existent or crumbling much of the time which leaves very little room for passing us.  We had a ton of traffic on the road with the trucks getting rather close on more than one occasion.
After 10 Kms The Climbing Started
Jack climbs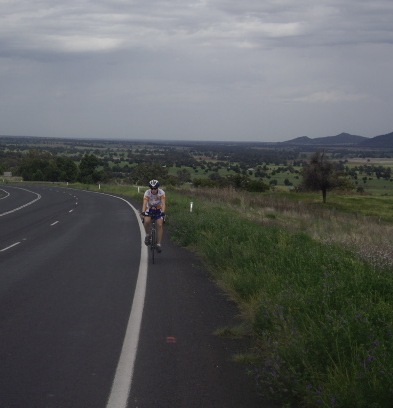 At about the 10 km mark the climbing started.  For the next 85 kms we climbed up and down, up and down.  When we were't climbing we had the headwind.  We finally managed to get into Coonabaraban for a break 95 kms in.
It's had been a real tough session and Jack was pretty much spent.  It had been our first hard climbing after thousands of kms of relatively flat roads and his legs knew it.
Chris rode with us in the morning and chose lunch to stop and rest his legs.  Dave Summers and Harry (14) then joined us for the next 105 km.
We were exhausted at lunch and really struggled to get back on the bike.  If we had too many more hills to climb we would have struggled.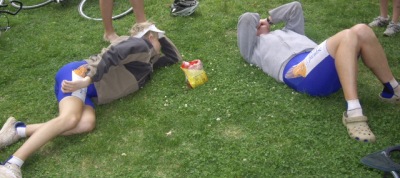 Taking a break
Laura and Mel had some time to take a couple of pics.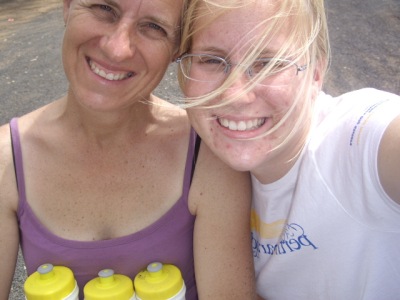 Coonabaran promotes itself as the Astronomy Capital of Australia.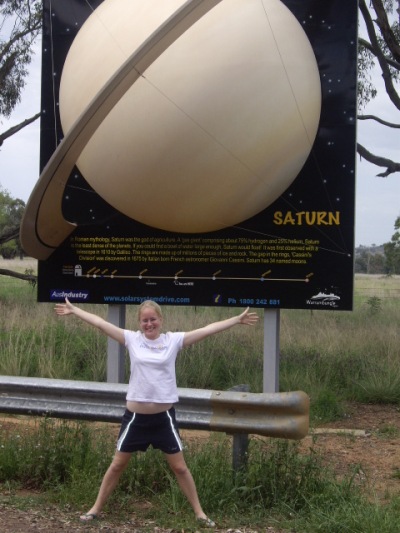 What Goes Up, Must Come Down
But there's an old saying we love: What goes up, must come down!
For the next 55 kms we relaxed as we had some massive downhills, followed by easy uphills.  Traffic had dropped away to nothing (the trucks must take a different route) and the roads were good.
The wind died away to nothing.  Dave and I were hooting down a downhill at 55 kms an hour when an emu raced across the road in front of us – we missed him by about 10 metres.
That caused us old blokes (!) to slow down a bit and wait for the youngsters who were 50 metres behind.
That last 55 kms was as close to cycling heaven I've been – easy riding, no traffic, and great roads.
Fairly Flat Road Ahead
We stopped for a break with 50 kms to go to Gunnedah, knowing we had a fairly flat road ahead and about 2 1/2 hours of light.
Harry was still feeling good so stayed with us – 105 kms would be his biggest bike ride ever.  There was nothing to be done that would get Dave off his bike for the last bit.
Jack and I both felt a lot better now we'd had essentially 55 kms of rest.
Off we set for the final 50 kms.  A nice little tailwind sprung up for a while and we zipped along.
The day's effort started to tell and Jack and I were soon able to barely reach 18 kms/hr.  We were struggling a bit.
Set Up Camp In Gunnedah
Tina (David's wonderful wife), Chris and Jo had gone ahead to set up camp in the Gunnedah Caravan Park.  Mel and Laura stayed behind to hand us drinks as we went past.
Then a not so funny thing happened.
It started getting dark.  Real quick.  One minute it was light, then clouds rolled over and the sun seemed to go rather smartly.
We Needed To Finish
We needed to finish and finish quick.
We were still 20 kms shy of Gunnedah at this stage and going slow.  We weighed up our options and the resources we had and decided to press on.
We got the boys together and said, "Okay, we really need to crank it up here.  Stick together, loud calls, stright lines."
From being shot ducks minutes earlier, we really needed to ride hard.
For the next 20 kms we rarely went below 30 km/hr as we rode for the town.
Then Came The Rain & Lightning
Then the rain started.  And the lightning.
We hammered away and it was a welcome relief to roll into Gunnedah as it hit pitch black.
203.22 kms for the day
We'd spent 9 hrs 37 minutes riding that 203 kms
The last 20 kms was as hard on the bike as we've had.  Thank goodness we had lights and could be easily seen.
Some Amazing Riding
Jack rode brilliantly for someone who's done close on 4,000 km already, Harry did a sensational ride for a 14 year old to do 105 kms for the day and the old warhorse (he doesn't get a chance to read this blog so he doesn't know what I call him!) Dave Summers did an amazing job driving the ride for the last 50 kms.
And Chris ride through the hills was terrific earlier in the day.
A day to really look back on and cherish as a super tough day that we worked hard to get through.  After doing that 203 km we feel like we're finally on the way home.
Cheers
Brendon