Sunday, October 5, 2008 – 9.21 pm
Today started with a late (8.30 am) start from the Gunnedah Caravan Park.  We sadly said goodbye to Tina, Tim and Holly (Dave's family) who had been great support and entertainment for a week.  Thanks guys – look forward to seeing you on Friday.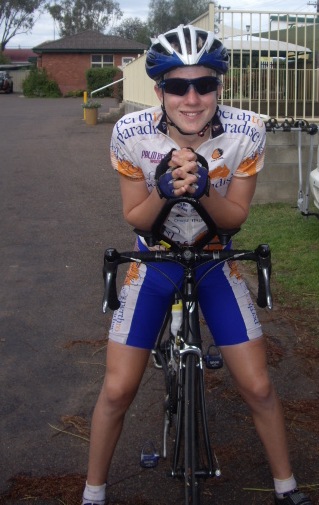 Jack's ready to go
We cranked out a solid first couple of hours averaging 25 kms an hour.  Winds were minimal today, with conditions fairly cool and overcast.
David & Jo Racing For Wins
Dave and Jo rode with us this morning for the first 100 kms and enjoyed racing each other up the hills.  Jack and I sometimes sprinted over the top for the win, but mostly the honours were even.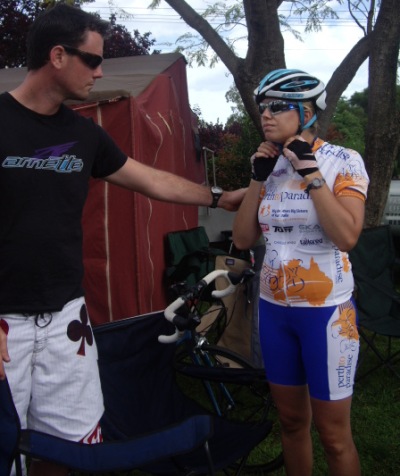 "Now Jo, don't let Dave beat you up hills!
Tamworth came up 78 kms into the ride – quite a large town with 40,000 people.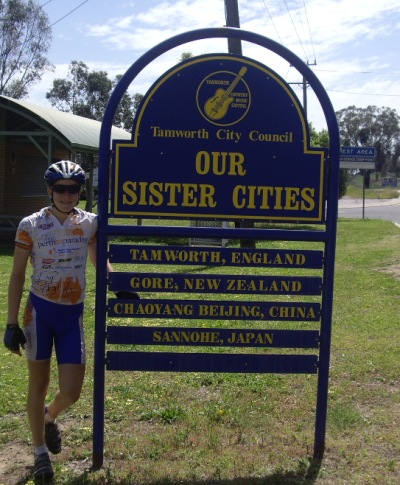 Jack in Tamworth
15 kms out of Tamworth and we had a close call.
As Dave and Jo were sprinting for another win up a small hill, I was 20 metres behind.  At the last minute I saw a 2 metre brown snake about 5 metres ahead and a metre to my right.  I didn't have time to stop and rolled past.
The Snake Reared To Strike
The snake reared up at me to strike but I was past before he hit.  I was then going so fast I beat both Dave and Jo up the hill!
I called a warning out to Jack a few metres back and he rolled past it's tail as it slid into the long grass.
That spooked us a bit and we made great time to lunch!
Dave and Jo stopped riding at lunch (after 98 kms) at Moonbi and Chris and Harry joined us.
"No-one gets to the top without walking"
According to our mapping we had a big, steep climb coming up.  An old local at the park told Chris that we wouldn't be able to ride to the top, that it was far too steep – that most cyclists walk.
Chris didn't tell us this, but it didn't matter too much.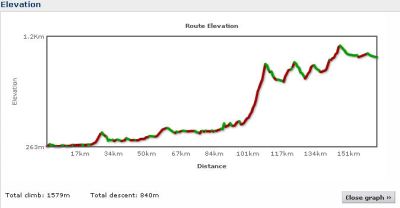 Elevation profile
The climb hit at about the 100 km mark – the first sign said "1st Moonbi Hill".  That's a bit scary – if it says "1st" it means there's more than 1!
It was a great climb – really steep and hard (took about 35 minutes) but we all got to the top easily enough.  Check out the Moonbi Hill Heroes below!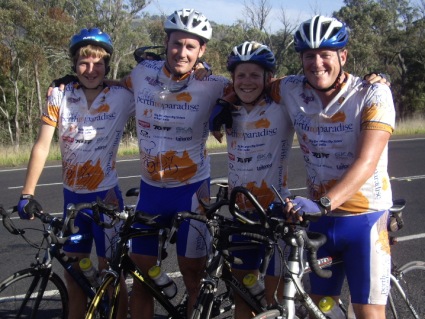 Harry, Chris, Jack & Brendon
They didn't always look this fresh – here's Brendon 5 minutes earlier: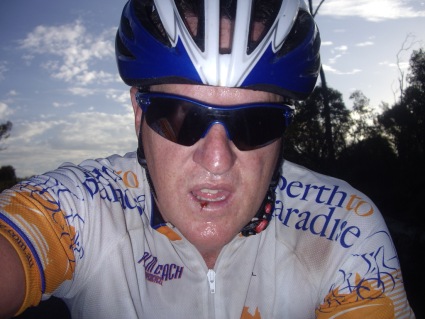 The afternoon riding was a little easier with plenty of downhills, but a bit more climbing too.
We ended the day with Jack out front taking us along at 35-40 km/hr into Uralla.  He didn't stop for the last hour and it was terrific to see him be able to do this after some massive days.  It was a huge effort.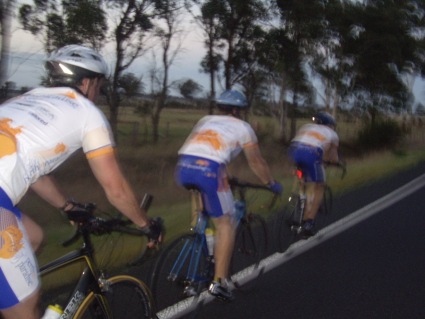 The Jack Train – Photographed at 40 km/hr
We're feeling good – Dave's cooked up some pasta for dinner, we enjoyed that with a red wine.
Now, at 10.06 pm, everyone is crashing and heading for bed.
Cheers
Brendon