Monday, September 29, 2008
Maree (my wife) and I have been with the crew for a few days now. And what a well oiled machine they are! Led by the highly organised Mel, food is carefully balanced, shade, wind protection and water are all catered for carefully at the stops.
This is important because the riders have had it pretty hard over these few days. Strong head and cross winds mixed with road trains that can drop the speed from 25 to 10 in one passing make for a hard day. Not to mention the heat and the flies!
Highlights A Plenty!
Highlights? Oh plenty!
The open plains, the space, the riders, Jack and Brendon quietly going about their business, friends Jo and Chris and ourselves being the "domestiques" of the peloton have all been fun. But the greatest highlight has been sharing the fun, banter and, well, the love within the Sinclair family.
Bush camping on creek beds (with great sunsets) and sitting around the fire chatting until sleep calls has been a privilege. Chatting with the gang is just a pleasure and with such support and care for each other, I know they will make it and I know that nothing will get in their way.
High winds are nothing when the gang are so focused on riding and riding some more.
Generosity Never Ceases To Amaze
The generosity of people never ceases to amaze.
Not only this amazing band of people riding for Big Brothers Big Sisters but all the little things along the way. Comments on this site have been a source of strength, The West Darling Hotel in Broken Hill putting us up for free, all the kind people that have donated goods, services.
Feel Strengthened By The Spirit
Just as Jack and Brendon and the team feel strengthened by this, so too do we at Big Brothers Big Sisters, from across the country feel inspired and strengthened to reach out to more young people in need.
Thanks everyone. Onward and upward from here on…I mean that literally as the team starts to slowly say goodbye to the long hot plains and start to climb toward the coast.
Go Well my new friends and we shall meet again at Surfers Paradise!
David White (Executive Director, Big Brothers Big Sisters).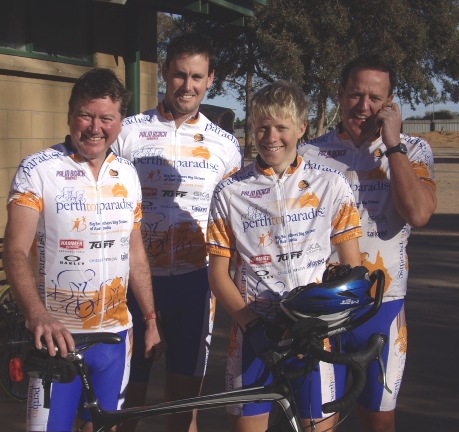 David, Chris, Jack & Brendon