Monday, September 29, 2008 – 6.59 pm
A bit of a sad day today when David and Maree (a great rider!) White left us to return to Melbourne, along with Paul (Big Brothers Big Sisters Melbourne) and Annette (his mum) saying their goodbyes.
The entire team at the West Darling Hotel, Broken Hill
An easy day planned today with a 111 km ride from Broken Hill to Little Topar, with the elevation profile looking very flat.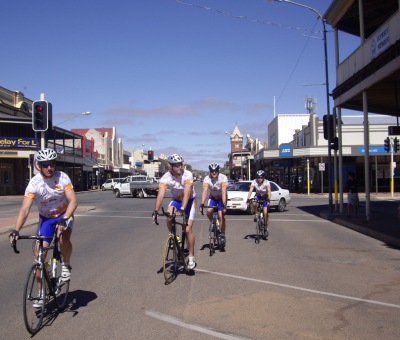 Dave, Chris, Brendon & Jack leave Broken Hill
The day started very late with a 9.45 am ride out of Broken Hill.  It then became apparent that it wasn't really 111 kms to Little Topar, but just 78 kms.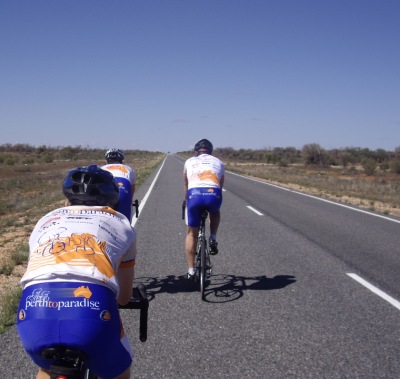 Jack tucks in behind Chris and Dave
With Dave Summers driving down from the Gold Coast with his family, we had a fresh pair of legs to take up the pace.  And take it up he did – we flew from Broken Hill to Little Topar in the first session averaging 30 km/hr.
A Cruisy Ride To The Camp Site
A nice lunch in Little Topar was followed by a cruisy 42 km ride to the best camp site in the area.  Dave and Chris dropped off here to set up camp, whilst Jack and I trundled along for another 20 kms.
We went pretty slow as we stopped to photograph some views, emus running beside us on the road and wild goats.

These 2 emus ran beside us for 300 metres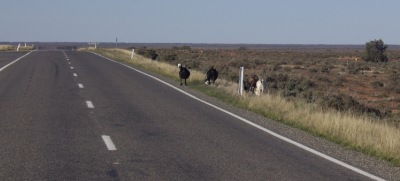 Wild goats beside the road
Jack then got his 1st puncture which slow our pace right down, but we were pretty happy with 140 kms for the day.
The crosswinds weren't too bad today and it's been one of the easier days we've had.
We're feeling strong and pretty fresh, so all is going well.
Cheers
Brendon