Saturday, September 27, 2008
Always seems to be the way – after managing an extra 30 kms yesterday we were looking forward to an easy 111 kms into Olary.  But then Australia bit back!
We set off at 7.30 am into a cloudless day when the wind first reared it's ugly side.
20 Knot Headwind
We were battling into a very strong headwind of probably 20 knots as we struggled along.  The small town of Yunta was our first aim and we managed to reach there with a not very impressive average speed of 18 km/hr.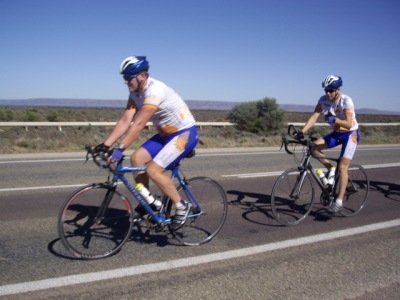 Brendon & Jack struggle along
The headwind was okay, it was the heat to come that really started to take it's toll.
A 35 km stretch into Mannahill was next – we had Chris riding with us, along with Maree (wife of David of Big Brothers Big Sisters of Australia), my other son Harry, Jack and myself.
Temperature Rising To 33 Degrees
It was a very tough couple of hours into the wind, with the temperature getting up to 33 degrees and no shade to speak of.  The endless straight roads went on and on as we tried to battle away.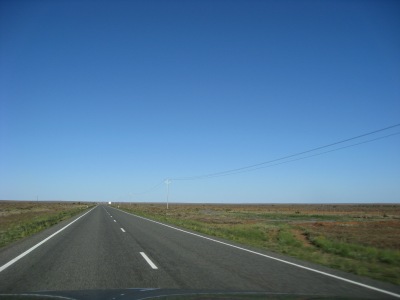 After what seemed like an eternity we managed to get to Mannahill, where the plan was to have a long rest in the hope the wind might die away or change direction.
An hour or so lunch recharged the batteries and we had a bit of a wind change.
Mannahill to Olary Wind Change
We lost Maree and Harry for this next section to Olary (Maree jumped on about 20 kms down the road) and away we went.
For the first 10 kms we had a nice tailwind/crosswind which was a very welcome relief.  We then settled into a nice rhythm and maintained that once the wind changed over.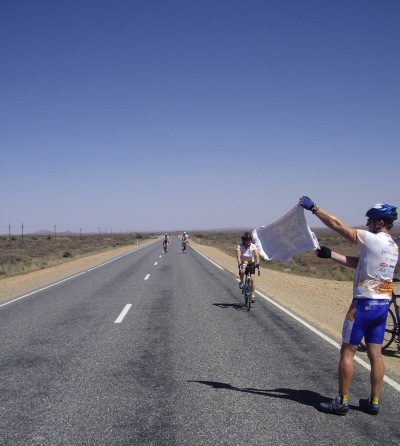 The crosswind was strong
We got the Olary at about 3.30 pm with a little light still left.
Olary is a quaint little town that's closed down.  Every building has been abandonded by the looks, with the old railway station a reminder of past glories.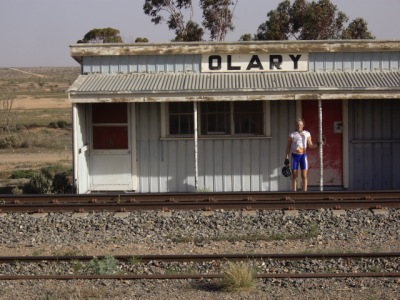 Jack at Olary Station
AFL Updates From David Through The Car Window!
After a few oranges and apples, along with David giving us a rundown of the first half of the AFL Grand Final, we set off again to see if we could know a few kilometres from tomorrows ride into Broken Hill.
With hotel rooms booked, other friends joining us and Jack's birthday, it would be nice to have a shorter day into Broken Hill so we could rest up a little.
With the wind changing 3-4 times, we managed to do another 30 kilometres and end up just 85 kilometres short of the Hill.
Looking forward to our biggest town yet tomorrow.
Cheers
Brendon