Sunday September 21, 2008
Today we set out about 45 kms east of the Nullarbor Roadhouse (where we were meant to stay), after an enjoyable night spent round the campfire chatting with Bert, Claudine, Bob and Daphne (all touring about in caravans).
We packed up and set off at 8am into the cloudless day where tempearturs soon hit the 31 degree mark.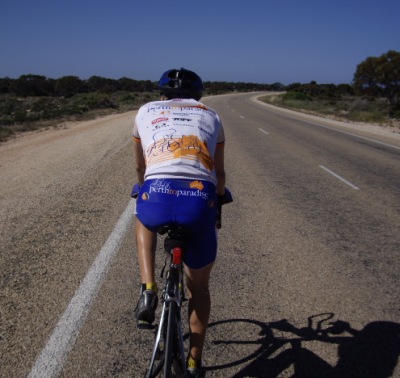 Unfortunately the headwind we rode into didn't let up and we spent most of the day struggling up hills.  There were very few kangaroos littering the side of the highway (just 3 for the day), but we saw probably 20 dead wombats – sad to see.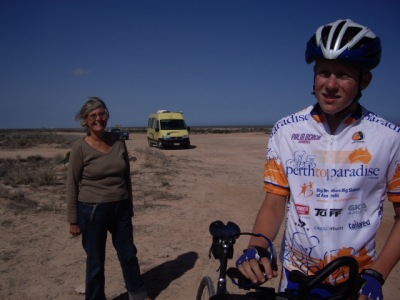 Jack with Janice – Janice donated $5 and
7 slices of Corned Beef!  Delicious!
Stu Joins Us For Day 1 and Day 11
The highlight of the day was when we were riding into Nundroo for lunch- a cyclist was riding the other way and as we got close he yelled out:
"Heh, aren't you the Paris Hilton of Australian cycling?!"
That was what Stu and I (Stu rode us out of Perth on Day 1) called Jack when he was getting all the media attention in Perth.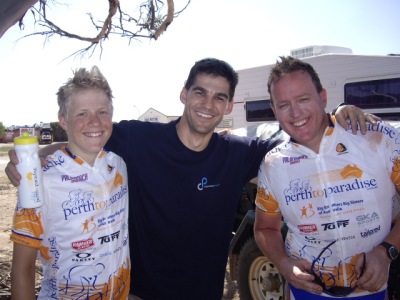 Jack, Stu & Brendon
Stu had driven from Perth to Ceduna (about 2,000 kms) to buy a caravan and was on his way back when he saw the team waiting for us in the Nundroo roadhouse.
Stu had bought his bike, so jumped out, onto the bike and rode out to see us.  Really nice to catch up with Stu even if it was only for a few minutes (Stu is Ange's brother).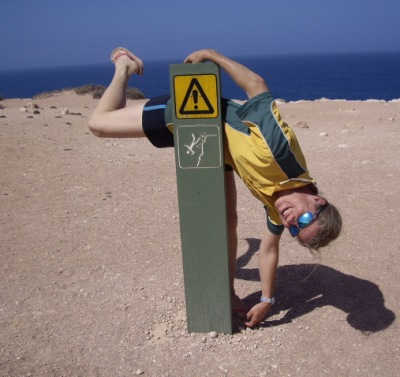 Mel always follows directions!
Rest Of Day Into Crosswind
The rest of the day was into a crosswind.  It was a real tough day, but at the end we'd manged to clock up 195 km and we're just 72 kms from Ceduna where we pick up Laura and Harry (Jack's sister and brother).
We set up camp 16 kms out of Penong and Spud droe out to bring us back in at 5.40 pm.
Emily cooked up fried rice which went down a treat – Jack went back for seconds, thirds and fourths!
Cheers
Brendon