Monday September 22, 2008
Okay, we'd done all the hard work and got ourselves just 72 kms from Ceduna – one of the few places where we have to be at a certain time.
72 kms in a day was meant to be a breeze after days of up to 260 km.
But it didn't quite pan out like that…………
50 Knots Winds, 3 Degrees C
We were woken several times during the night by the 50 knot winds hammering the camper trailer.  We woke at 6.30 am to find the wind still howling and the rain pelting down.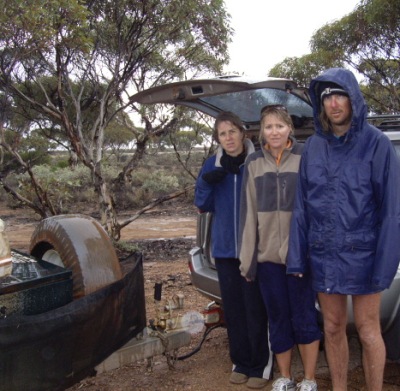 Not So Happy Campers – Mel, Emily & Trev
Unfortunately Ceduna had moved no closer durng the night so we'd still have to pedal.  Jack and I jumped onto our bikes at Penong where we stopped last night and started pedalling.
3 degrees C
50 knot crosswinds
Freezing cold rain
Road Trains storming past and the buffeting was enough to take you from 20 km/hr to just 8 km/hr!  As the cold water spray hit us it would literally take our breath away.
It was, without doubt, the hardest bike ride I've ever done.
Just Trying To Get To Ceduna In 1 Piece
And there was Jack riding along without a word of complaint.  Just trying to get to Ceduna in 1 piece and with all his fingers and toes free of frost bite!
Even Old Dave Said It Was Hard!
We bumped into a guy called Dave in the local cafe – Dave rode from Penong a few hours after us.  Dave is an older guy who has ridden everywhere and done it all.
Even he said it was the hardest ride he'd ever done.  So we didn't feel quite so soft after all!
Cheers
Brendon