Tuesday, October 27, 2008
The day started with a trip to Ebor Falls – a chilly look at 6 am but well worth it.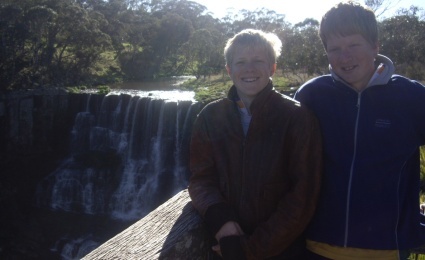 Jack & Harry by Ebor Falls
Perfect conditions for riding today as we set out into a fairly cool morning, with not a cloud in the sky.
The elevation profile today showed a drop from 1.4 kms above sea level (from Ebor) to sea level.  We had some lovely long downhill sections that seemed to stretch on forever.
Cows, Kangaroos, Horses & Magpies
We rode through some beautiful country, with cows running across the road in front of us, kangaroos hopping by, horses running alongside us and magpies swooping us.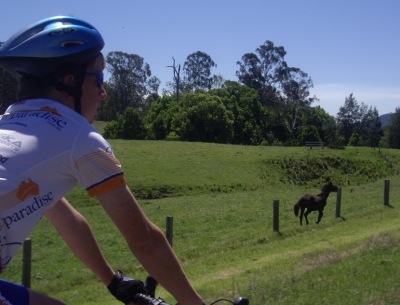 Harry and the horse side by side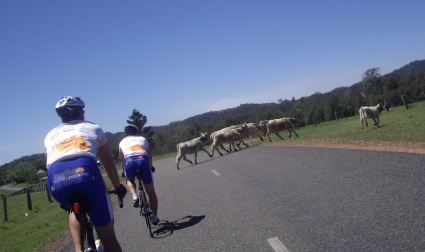 Moooooooove over!
The uphills were a bit of a challenge for Jack and I as our legs are pretty much empty and we couldn't hold the momentum to go up and over much of the time.
Terrific Support From The Lads
David (I got the message Jill!) Summers and Chris van Hoof rode with us again today, along with Harry.  Harry rode the entire day – 124 kms – which was the biggest ride of his life.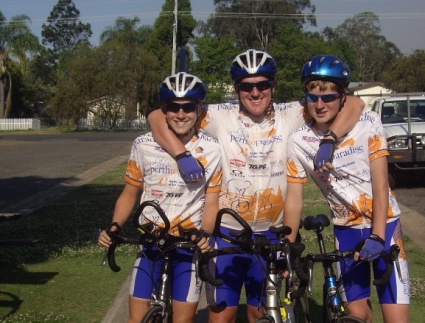 A group hug – kind of!
They're great to have along and provide terrific support…….and they worry about our hydration, insisting we stop in at a local establishment for some liquid refreshment.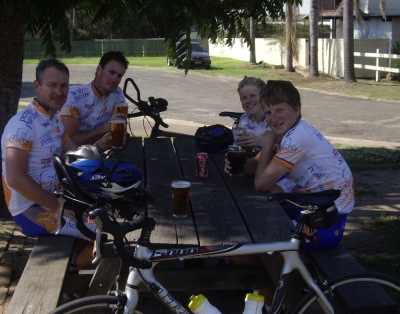 David, Chris, Jack & Harry enjoy a break
The "Totally Wild" segment was on yesterday and we've heard it was great, so looking forward to seeing that when we reach the Gold Coast.
The Plan From Here
We're a day ahead at the moment, with 3 days to go.
From here we'll ride to Kyogle tomorrow (Wednesday), then Thurday ride from Kyogle to Murwillumbah and on Friday ride from Murwillumbah to the Gold Coast to finish in Surfers Paradise at midday.
Thanks to all for your comments and support – they provide a real boost.
Cheers
Brendon