Okay, it's about time we profiled some of the people helping out on this ride.
First up is:
Who: Emily Grant
What: Jack's Cousin, Brendon's niece
What Else: School Teacher in Hobart, Tasmania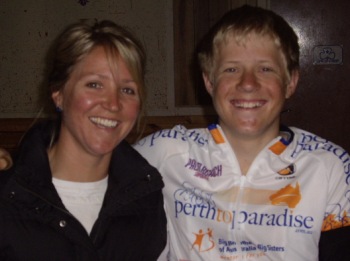 Claim to fame: Crashed into Brendon doing 20 kms on the Nullarbor, jammed her handlebars through the back wheel – and managed to do all this when a Road Train was coming the other way.
Then she blamed Jack for the crash!  (He was 50 metres back)
Emily also had a habit of throwing Clinkers (lollies) at us as we rode along.
Favourite Expression: Harden up!
Emily rode and rode hard for 3 days.  In her words she was "Without question the best, fastest and best looking rider of the 3 of us."
Emily's birthday present to Jack was the scenic flight to see the whales in the Great Australian Bight.
Also, Emily has promised to ask amongst the students at her school and try and find Jack a girlfriend (ooooops!!). Emily left us a few days back at Ceduna and is now safely tucked up in Hobart, recovering from sore legs.
Thanks Em!