Sunday September 14, 2008 – 5.40 pm
We're here in Kalgoorlie after a 150 km plus day – resting up at Trevor's house (Jack's uncle), catching up on washing and buying food.
We have Sarah, a massuese, arriving shortly to give us both massage and Mel is off buying tons more food.
Roads Wide, Flat & Straight
The roads were the same as they've been – wide, flat and straight.  We started the morning with an easy 40 km ride for a quick breakfast.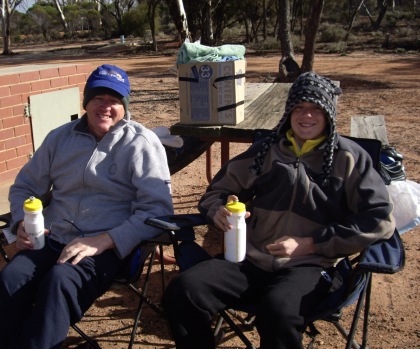 Brendon and Jack dress up for a break
After that was a 70 km hike to Coolgardie (Coolgardie Day was today – the place was packed).
Coolgardie to Kalgoorlie was a 40 km flat ride, but was one of the toughest stretches yet as we had an almost constant flow of cars passing close at 110 km/hr.
As they race past about 50 cm away you have to be very mentally focused and not allow the fatigue to have you move the bike to the wrong spot.
We pick up Emily, Jack's cousin, from Kalgoolie Airport in an hour or so and she is with us till Ceduna.  Em's a PE teacher from Tasmania and will be riding most/all of the way to Ceduna.
Thanks Jules
We lose the wonderful, brilliant and just plain nice Julie Mason in the morning.  Jules has been a fantastic part of the team and we're sorry to see her go.  Thanks for everything Jules – we love you!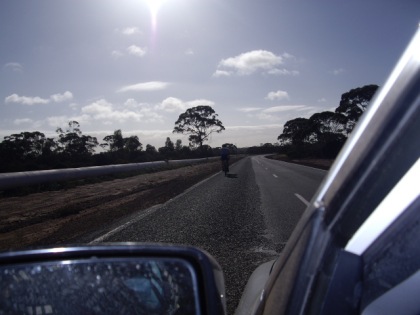 Cheers
Brendon