June 19, 2008
Old man Brendon, Jack's dad, has trouble keeping up with Jack these days on the bike and after being "smashed" on the latest 105 km ride to Best of all Lookout at the top of Springbrook mountain, decided that a little secret training was in order today.
Seeing as though it was secret training (and Jack would never find out), Brendon helped himself to Jack's favourite pair of Tuff gloves for the ride.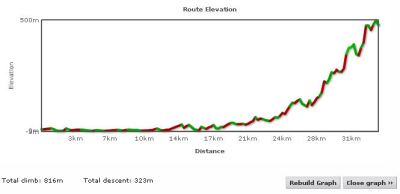 Elevation profile for Best of all Lookout
Off he went at 1.30 today.
Down the hill, along a bit and there he is riding past the local school. Jack's school.
130-1 Chance Jack Is There
There's 1 PE class out on the oval near the road. About 10 kids out of 1,300.
That's 130 to 1 chance one of those 10 kids could be Jack. There was only 1 kid looking towards the road at that time. Guess who that person was?!
All Brendon heard as he raced past was "Hi Dad……are those my gloves?"
That session is now called the "Not So Secret Training"!