How To Help Create A Brighter Future
My son Jack is a great kid.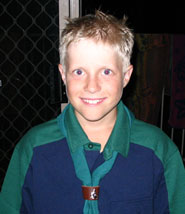 He's 15, a mad keen Scout, in the Air Force Cadets, works hard at school, volunteers at a camp for disabled kids each September holidays and has a heart of gold.
It's been through this that he first starting working towards helping others.
Last year, unbeknown to him, his Scout leader nominated him for the Junior Citizen of the Year here on the Southern Gold Coast where we live.
A few days before the ceremony, on Australia Day, Mel (my wife) and I had a chat with Jack and told him he'd been nominated.
Quite Chuffed To Be Nominated
He was quite chuffed and thrilled that it was his Scout leader (Spud) who had nominated him.
You see, he's a big fan of Spud's – she's a tireless worker in the local community through volunteering at Scouts, the Air Force Cadets and the Rural Fire Brigade – and to get that recognition, the recognition of a nomination Spud had never given before, was pretty special for him.
Wonderful Group of Role Models
We chatted with him about that and about how lucky he was to have such a wonderful group of positive role models in his life who had helped him along his way.
After all, not every young person has the benefit of someone they respect giving them a guiding hand as they deal with the obstacles life throws at you.
But Jack has.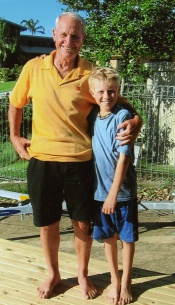 His beloved Pa who had passed away a few months previously,
Mr Zavros his amazing Primary school teacher,
mum Mel and big sister Laura,
footy and cricket coaches,
his Pop (right with Jack),
his neighbour and mate Tel and many more.
All Wonderful People
All wonderful people who have contributed more than they'll ever know.
We chatted about a charity bike ride I was doing a few weeks later in March, 2007 called the 'Sydney to Surfers Bike Ride'.
The funds raised by the riders went to the Sydney youth charity Youth Off The Streets.
Not Everyone Has A Helping Hand
We went on to talk about how the young people being helped by that ride's fundraising haven't often had the benefit of a helping hand, a gentle push here or a kind and encouraging word there like he has.
Not everybody has that, of course, and that can make life tough. Very tough.
Something like 91% of 13,000 kids cited for a juvenile offence in a study do not have positive adult role models in their lives.
Anyway, on Australia Day, Jack took his place proudly in the front row of the Currumbin RSL where the awards were being announced.
With about 400 people in the room he was a little shy on stage when they announced the nominations, but thrilled to be there.
"And The Winner Is…….."
"And the winner is………………………Jack Sinclair."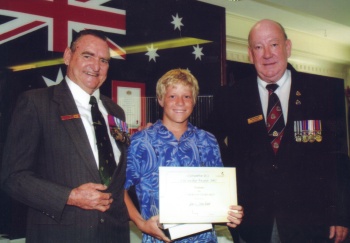 Keith Payne VC OAM DSC SS (US), Jack Sinclair, Bill Thompson
Jack stepped proudly forward and received the trophy, a book and an envelope – at the end of the ceremony he came over to join us.
We were looking at his trophy and book when he came up to me, handed me the envelope with the winner's cheque of $250 and said:
"Here you go Dad. You can have that for your ride – I hope it helps kids who aren't as lucky as me."
He Made His Mum Cry
That's when his mum shed a tear. He's a good kid.
A couple of months later, at the end of the charity bike ride, Jack received the official ride jersey from the ride organizers as a "Thanks" for developing and maintaining the official ride web site.

He was very proud of that jersey and immediately had to go for a ride and try it out. He started cycling with me more and more.
A few months later Jack and Harry (his brother) were watching "Long Way Round", the documentary of the motorcycle trip across the world from London to New York by actor Ewan MacGregor and his mate Charley Boorman.
"We Should Ride Across Australia, Dad"
The boys loved the show and Jack said, as kids do, "We should do that across Australia, Dad."
I thought he meant ride across Australia on motorbikes and that I had a couple of years before he could get his license.
"Sure, let's do it."
It wasn't until a couple of days later that I realized he meant riding across Australia on push bikes.
Oh dear! I'm 41 and only want to sit on the couch and eat pies!
Maybe We Can Do This
After a lot of planning, we saw that the ride – 4,500 kilometres in 30 days – was achievable and started our training. It's been 4 solid months now and we have only (aaaargh!) another 7 to go!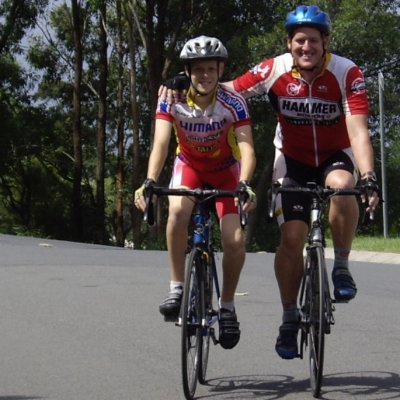 We talked about how we could help others based on the things Jack was already doing with Scouts and with the disabled children camp and we thought that maybe we could use the ride to raise some funds and awareness for a worthy cause and, in line with our thoughts about the importance of role models, felt a mentoring organization would be ideal to support.
The Gift of Friendship
Shortly after, we became aware of the amazing work of Big Brothers Big Sisters of Australia – the leading and longest serving youth mentoring organization in Australia.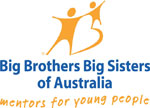 Big Brothers Big Sisters match up mentors with young people who need a helping hand – we met up with Executive Director David White and he took us through the very valuable work they do and the life changing results that occur.
You see, a lot of the time the only thing these young people need is a mentor who believes in them.
If Jack and I can, through this ride, play a small role by helping to raise some much needed funds to help, then that's a pretty easy thing for us to do.
But we need your help.
We'd Love Your Support
We'd really appreciate your support to help provide, friendship and mentors to every young person who needs one – that's the vision of Big Brothers Big Sisters of Australia and a vision Jack and I hope you can help us contribute to achieving.
Donating is simple.
Hit the button to donate – you can use a credit card or a PayPal account (for the nerdy ones amongst us!) to donate instantly, or print off a Mail/Fax donation form.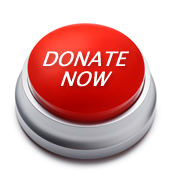 Thanks for taking the time to read this letter and for considering to help the great work of Big Brothers Big Sisters of Australia – if you have questions or comments please don't hesitate to contact us here.
Thanks again.
Brendon & Jack
P.S: Donations above $2 are tax deductible.