Bit of a drama with Emily (Jack's cousin) running into Brendon's bike from behind.  Emily's got a couple of grazes, but apart from that everyone's okay.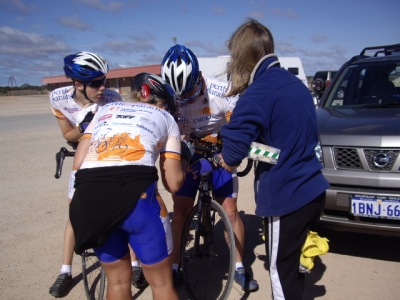 Bike repairs underway
Brendon's bike did get a little messed up (apparently it's only working in one gear), so it will be a bit tough until they reach Ceduna on Day 12, where they can get it fixed.  Until then, he's either riding his bike, with the dodgy gears, or the spare, which is about 4cm too small.
Despite all this it seemed to be all good news.
Another 185 kms done.
Laura