Hi, writing this from a campsite 15 kms north of Norseman, which is the start of the Nullarbor for us.
The day started a bit poorly with Jack waking up with a cold at 5 am.  We soon hit the road only to be confronted by strong headwinds.
Luckily we had Jack's cousin Emily to share the load up the front as we battled for 100 kms into the headwind that just didn't give up.
The hilly ride didn't help and the uphills seemed so much longer than the downhills.
Rode Last 70 kms Standing Up
A fair bit of saddle soreness saw Jack ride the last 70 kms standing up to ease the pain.  The winds finally stopped and after a hard 8 1/2 hours in the saddle we'd covered just 170 kms to the campsite at 5.40 pm.
That's 15 kms short of where we planned to be (in Norseman), but we plan to leave early tomorrow to make up the difference.
Ange has worked on Jack's legs for hours and he's exhausted but comfortable.
Everyone is in good spirits despite the tough day.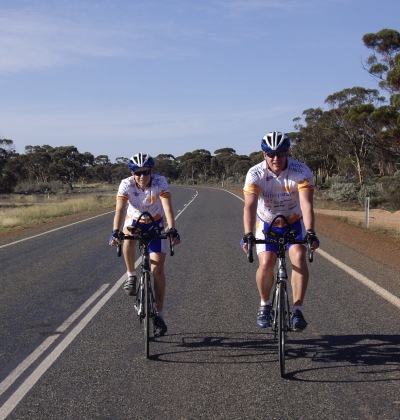 Jack and Brendon on the road to Norseman
The typical outback WA road
Jack at the end of the day