September 8, 2008
Some people are just so nice.
Craig Harper took some time to chat with Jack and I when we were in Melbourne last.
He rang today say he couldn't come along to the Ride Celebration Dinner but wanted to support us by buying 2 tickets for the dinner for us to donate to 2 people who would like to come along but wouldn't be able to afford it. Great stuff!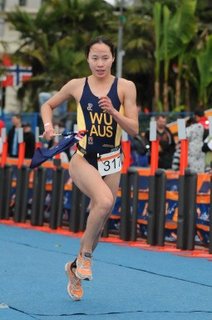 Phil Jauncey and his wife Ros have just sent another donation of $750!  Phil is a Sports Psychologist and has shaken down his clients over the past few weeks for donations for us!  Terrific.
Michelle Wu (left) is the World Age Group Triathlon Champion – Michelle is sponsored by Hammer Nutrition, the same people who sponsor us with ride nutrition.
Michelle emailed Jack to wish him all the best.
Glenn and the Cannibal team did our ride jersey and knicks, and donated some brilliant wind breaker jerseys, socks, caps and backpacks worth hundreds of $$$.
Thanks!
Jack & Brendon