September 6, 2008
Our ride jerseys and knicks arrived yesterday thanks to the guys at Cannibal.  Jack, Harry and I went for an easy 60 km ride with Jo and Chris to try them out.
The highlight for the boys, as it often is, was breakfast which included the legendary Caramel milkshakes from Ritchie up at Alora at Bruce Ave, Paradise Point. as you do first thing in the morning!
We gave some Perth to Paradise tattoos to a young boy sitting with his dad and some mates – he didn't throw them out which was a good sign!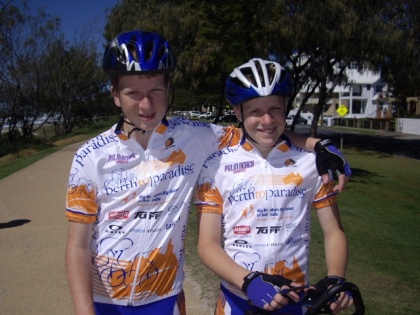 Harry & Jack cuddle up in the new gear

Lovely morning for a ride – the guys are looking good tucked in behind each other.