28 April 2008
One of our friends is a wonderful guy called Aneek Mollah.
Aneek is a super keen bike rider and completes the arduous Sydney to Surfers ride each year.
Aneek has made the very kind donation of $100 to Big Brothers Big Sisters of Australia and has pledged $100 more per month until we set off on the ride.
Jack Awarded Australian Scouting Medallion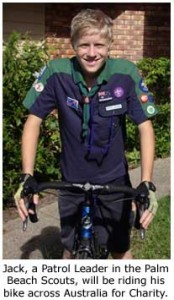 Jack received a letter from Maurice Law, AM, – Chief Commissioner of Scouts Queensland – last week – "I have much pleasure in advising that you have today been awarded the Australian Scouting Medallion."
Highest Award A Scout Can Win
The Australian Scouting Medallion is the highest award a Scout can win and they're awarded rarely – in 15 years with Scouts, Jack's Scout leader Spud has never had another Scout be awarded the honour.
Jack is a mad keen Scout and does so much abseiling, rock climbing, kayaking, bushwalking and camping we simply don't know where he gets the energy!
An official presentation is being organised – we'll keep you posted.