As you can see from the photo below, we hired a supermodel for our shoot to display the ride caps and shirts.
This little rascal (Laura – Jack's sister) was heard to say: "It's $100 a minute or I'm walking outta here!"
(We weren't sure where to, as she lives here.)
"Don't You Know Who I Am?"
She then flicked her hair a bit and uttered "Don't you know who I am? I can't work like this!!"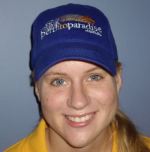 The cap is, as you can see, a lovely blue with adjustable velcro tab at the back for easy adjustment with the fully embroided logo on the front.
It's 100% cotton and one size fits all.
On the back of the cap are the words "4,500 kms in 30 days".
You can purchase the cap (and support the ride) in our 100% secure online shop here.
Official Ride Shirt
The wonderful official ride polo shirt is a beautiful gold colour (the ride jerseys will be gold) with the logo on the left breast and the words "4,500 kms in 30 days" embroided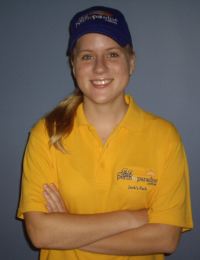 across the back.
Manufactured by Johnny Bobbin, the polyester and cotton shirt provides excellent sun protection and complies with AS/NZS 4399:1996
This very distinctive shirt is supremely comfortable and is a quality shirt that will last for years.
To purchase, simply use our 100% secure online shop here, buy and support the ride (and you'll look great and become better looking!).